China Telecom Global (CTG) has won "Best IoT Solution Provider" and "Euro-Asia Regional Operator of the Year" at the 2020 GCCM (Global Carrier Community Meeting). The awards are independent recognition of the quality and service of CTG's Internet of Things and telecom products in the Eurasian region. They're also a welcome boost to morale for the CTG team in this difficult year.
The CC-GLOBAL AWARDS are independently judged by a panel of 13 telecoms analysts and experts from the industry. Carrier Community, an industry networking platform for wholesale telecom service providers, organised the awards and hosted the physical and on-line ceremony in Berlin on 26 August. This year 23 companies were rewarded for their innovation and achievement in telecommunications worldwide.
China Telecom Global – Euro-Asia Regional Operator of the Year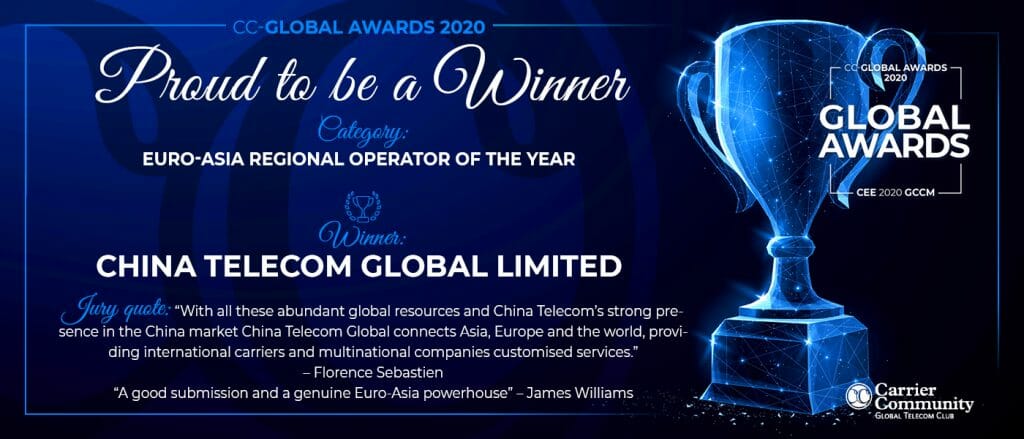 Organisations across Europe and Asia, including international operators and multinational companies, turn to CTG for integrated telecommunications services to connect to their clients, customers, suppliers and partners around the world. CTG's world-class infrastructure and well-established business in mainland China allow it to deliver seamless network coverage and flexible capacity. Clients value its bespoke service packages and the fastest connections between Asia and Europe.
Florence Sebastien, CEO at FSE Consulting and jury member, commented, "With all these abundant global resources and China Telecom's strong presence in the China market, China Telecom Global connects Asia, Europe and the world, providing international carriers and multinational companies customized services."
China Telecom Global – Best IoT Solution Provider
CTG is one of the world's largest integrated telecommunications service providers and owns the world's biggest 5G network in mainland China. In 2019 it saw growth in IoT of nearly 50%. There are now more than 150 million CTG IoT devices and solutions. CTG uses its extensive partner resources to provide enterprise customers with one-stop IoT solutions.
Jury member Benjamin Tan, CEO at ViewQwest, particularly commended CTG's "Comprehensive IoT ecosystem".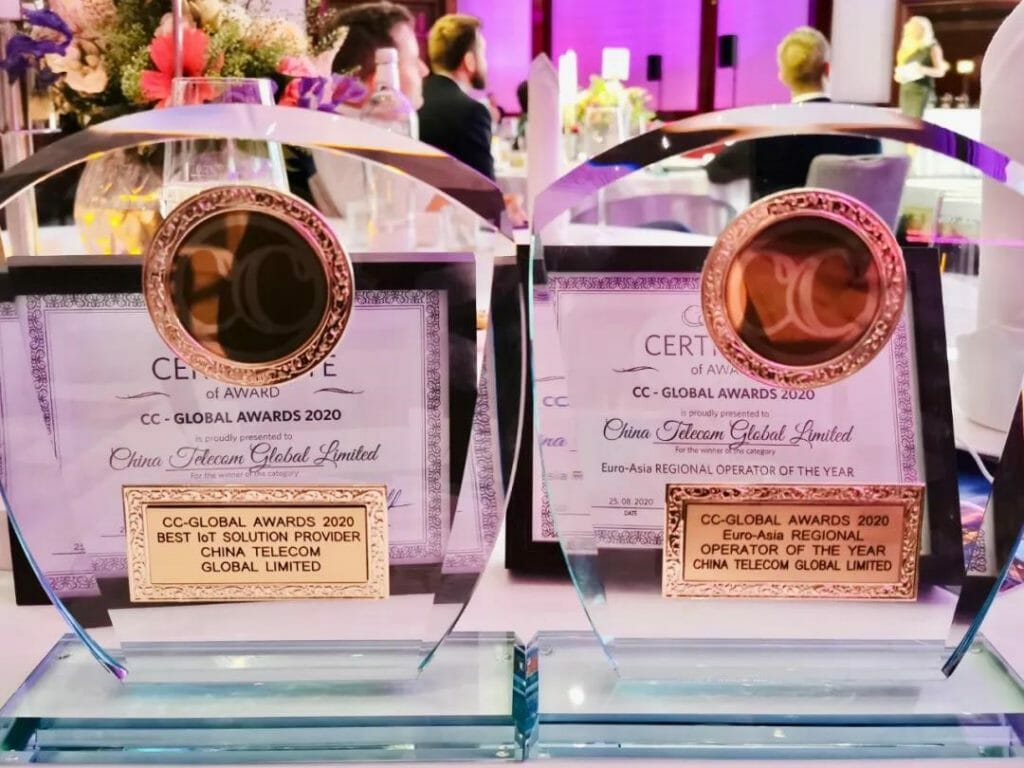 These awards mean more than simple recognition for CTG's past successes. As the journey to digitalisation progresses, CTG takes its responsibilities as an award-winning world leader in tech and telecoms very seriously. Today that means continuing the hard work of building higher-speed networks, establishing more complete connections and providing more wide-ranging solutions as well as innovating with 5G+IoT to advance the global digital economy. In the future, expect more achievements from CTG as innovations underpin new developments for consumers and businesses.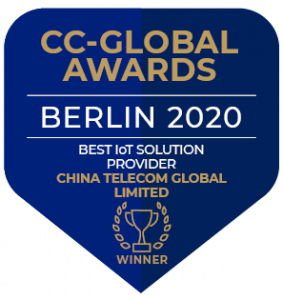 _______
About China Telecom in Europe
China Telecom is China's leading telephone company, the world's largest fiber-optic broadband operator and the world's leading data centre operator.
China Telecom Europe (CTE) was founded in London in 2007 to handle the European business of China Telecom. Its mission is to build a digital silk road by connecting Europe with Asia, extending to the Middle East, Africa and the rest of the world. CTE provides integrated telecoms and communications services as local solutions for Chinese companies and global solutions for multinational corporations. With unrivalled knowledge of the Chinese market, and regional offices across Europe, CTE is an ideal partner for European and Asian businesses looking to work in China and Asia.